Hi followers! It's been a long time! This school year is off to a great start so far...but it has been busy busy busy! I am currently in the throws of a full fledged reading and writing workshop. I have been doing a lot of reading and research to help guide me, but I am still trying to figure out so much.
I am enjoying tailoring my teaching to my students' needs based on what I am seeing in their work, and I have found that this new model for teaching is giving me a lot more time for conferring with students. In the past four weeks, I have gotten to know my students' strengths and weaknesses and am already planning on how to better meet their needs through small groups and one-on-one teaching.
The best part is that I have the full support of my principal, who is very excited about me trying out this new teaching style. I am the first person in my school to completely abandon the anthology. It's sort of scary to not have the assurance of a pre-planned curriculum, but I feel like I have found a lot of support via Twitter.
Last school year, I implemented some pieces of the reading and writing workshop and saw so much growth in my students. I can only imagine what I will see by the end of this school year. For those of you who are interested in looking into the reading and writing workshop, here are some resources I have found the most helpful: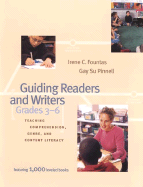 Guiding Readers and Writers by Fountas and Pinnell has a ton of information about implementing the reading and writing workshop. The book includes mini-lessons to help guide beginners in launching the workshop, along with images of anchor charts that I have found very helpful.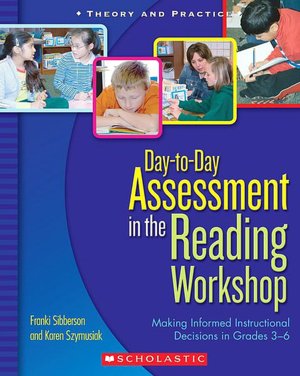 Day-to-Day Assessment in the Reading Workshop by Franki Sibberson helped ease many of my fears when deciding to venture into the world of reading and writing workshop. Franki explains how to use student work, class discussions, and conferences to drive instruction. Reading this book helped me see all the different methods I could use to assess my students and gather data. There are student work samples and forms to help get you started, too!
I also downloaded a digital book by Lucy Calkins called A Curricular Plan for the Reading Workshop from the Heinemann website. This is a great tool to help provide a scope and sequence for the year. One of the most intimidating factors for making the switch to reading workshop was not knowing what units to teach and how to teach them. Let's face it, that's what makes anthologies so convenient. They tell you what stories to teach, and what skills to teach with them. This book Gives you a month by month sequence you can use to plan instruction. Calkins also provides teaching points to cover within each unit of study. There are not any actual "lesson plans," but I like that. It is up to me to figure out what is best for my students, but I like having a resource that will help provide some structure. Heinemann also has the same type of resource for writing workshop, and both resources can be found for any grade level.
Well, that's all for now. I am still fine tuning and researching. This is going to be quite a big year for me, but I am feeling very excited and energized about this new adventure. I can't wait to see my students grow and thrive in an environment that is catered to each of their individual needs.
Who else is using this structure for teaching language arts? What are some of your favorite resources that you use? I can't wait to hear from you all!