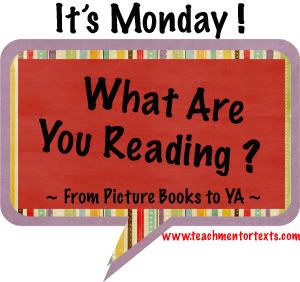 I had a much better reading week this week! Thank goodness...now I feel more accomplished.
This week I read several books on one of my new favorite sites: WeGiveBooks.org. What a great opportunity to read and support great causes. Since my previous cause's campaign had been fulfilled, I moved on to a new one that hits close to home: United Through Reading. My cousin's husband is currently deployed overseas, and I did this for her. They do not have children yet, but many of their friends who have deployed spouses do.
I noticed they had a lot of books related to Black History Month, so I started with two of those. The first one was Back of the Bus by Aaron Reynolds. This book is written in verse and takes place on December 1, 1955 in Montgomery Alabama. It is a small boy's account of the day Rosa Parks stood her ground and refused to give up her seat. The pictures are lovely, and the message is strong. This would be a great quick read aloud to add to your Black History Month line up.
The second book I was was called The Hallelujah Flight by Phil Bildner. This is the story of two African American pilots who changed history by flying from the west coast to the east coast. They did not have much money, but relied on the kindness of others to help see them through their journey. Those who helped earned the honor of signing their name on the

OXX6 Eagle Rock plane and became a part of history. However, as this takes place during the Great Depression, there were many who not only refused to help, but tried to bring down the two friends as well. As I read, I couldn't help but wonder if those who did not help, and therefore did not sign their name, ever regretted letting their prejudice get the best of them.
The third book I read was not related to Black History month, but was just a quick, fun read. The title was Ladybug Girl At the Beach. I have to admit, I am growing very fond of the main character, Lulu. I see a lot of my childhood self in her. This book was certainly no exception. I distinctly remember my first day at the beach and having some of the same feelings and reactions as little Lulu does. The one that stuck out the most for me was the terrifying feeling that the ocean was sucking me in as the water rushed over my feet and back out to sea. Lulu experiences the same illusion and decided the water isn't for her. But, as always, Ladybug Girl overcomes her fear and enjoys a spectacular day at the shore.
The fourth book I read this week was not on

WeGive

Books, but was a digital copy (oh how I adore

NetGalley

). After hearing so many fantastic words of praise for it, I could hardly wait to read R.J.

Palacio's Wonder. This book was fantastic. Although

it is not scheduled to hit shelves until February 14th, I was able to get an advanced reader's copy by requesting it on

NetGalley

. I was hooked after the first lines:
"I know I'm not an ordinary ten-year-old kid. I mean, sure, I do ordinary things. I eat
ice cream. I ride my bike. I have an XBox. Stuff like that makes me ordinary. I guess. And I feel ordinary. Inside. But I know ordinary kids don't make other ordinary kids run away screaming in playgrounds
."
August Pullman (a.k.a. "

Auggie

") was born with not one but two genetic birth defects, leaving his face disfigured. As a result, his parents decided to home-school him, but now they (and

Auggie

) have decided it is time for him to join his peers in a traditional school setting. As you can imagine, life at Beecher Prep is not easy for August...not by a long shot. This novel reveals August's ups and downs through his eyes, the eyes of family members, and even friends. I could not. Stop. Reading. As soon as it is available, I plan on purchasing a copy for my classroom. I truly feel that the message within the pages of this book is one that everyone, adults and children alike, should learn. R.J.

Palacio's

words are real, powerful, and will grab you from the first page. I highly recommend this book to anyone who has a heart and has learned first hand that kids can be both kind and cruel.
I am still trudging along through some of the Newbery books I have discussed in previous posts (1/31/12, 1/2/12), but have also begun to read a book that my wonderful hubby purchased for my birthday. The Invention of Hugo Cabret by Brian Selznick is a book I have been looking forward to reading for a long time. I have even begged several students who bought it at our recent book fair to hand it over when finished. My wonderful husband also bought Selznick's Wonderstruck, so I will be moving on to that once I have finished Hugo. There may be some unplanned reading adventures in between, too!






So...
What are YOU reading this week?