This is my first time posting in relation to a "Linky Party"...so I hope I get it right!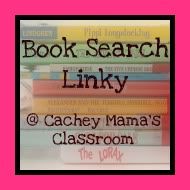 This one is being hosted by Cachey Mama's Classroom and the theme is "Book Search." More specifically, sites or blogs you go to for book recommendations.
Here are some of MY favorites...
1. A Year of Reading This has to be one of my favorite blogs to go to! It's how I got the idea to infuse more graphic novels into my classroom library. Another thing I love from this blog is "Poetry Fridays." I always find poems that provoke thought about teaching and life in general in these weekly treasures. This blog constantly updates with well-written book reviews for all age groups.
2. Donalyn Miller's blog on GoodReads is a great source, not only for book recommendations...but for ideas about teaching reading and writing in general. After reading her book (The Book Whisperer), I fully trust all recommendations from this inspirational teacher!
3. The Book Dragon is also another great blog to check out. This site offers a very wide range of book reviews. Sometimes a great idea for teaching is sparked as I red these posts. I also use this blog to learn more about some of the books in my classroom library that I haven't read yet.
4. The Nonfiction Detectives is the perfect blog for finding fantastic nonfiction books to use in the classroom. I like that this blog caters specifically to those in search of informational texts.
5. Scholastic Book Wizard is a great tool for not only getting to know the books in your library, but also for finding books that have similar themes and styles. I use the "Book Alike" feature to find books for my students that will help them branch out a bit.
6. Harper Collins Children's Books has some really neat features. You can listen to excerpts of books and watch book trailers (similar to movie trailers) for some of their selections. This is also a fun idea for getting students interested in books...much more interesting that listening to your teacher talk a book up!
How about you? What are some of your go-to resources for finding great books?